Okay you've read my STUFF introduction and you think "this is exactly what I need!!". So what's next? Where do I start? No… WHERE specifically. What app do I open? What notebook do I buy? Are you giving me an excuse to go to officeworks to buy new pens or what??
STUFF is app neutral. You don't need a new app (although I have IDEAS for how my ideal app would work!!) or to buy a certain kind of journal. I know you've tried a thousand of those already and I can't offer you anything that any other app can't give you and you'd stop using mine for exactly the same reasons you stopped using all of those others.
So stick with the apps you've used the longest. Or sound the most interesting. Or seem the most fun. Or have the most features! Or gamify the way that excites your brain. Or a journal that feels nice when you touch it or fits in your bag or has nice paper or… you get what I mean. The best tool is one that you keep using.
I use Habitica for my daily STUFF. I have done for years. It's not for everyone and it doesn't streamline STUFF in any super elegant way. But I started using it in 2013 and… haven't stopped yet. And I still find it kind of neat and kind of fun. So that's what makes it the best one for me.
In Habitica I use tags to keep track of my STUFF gears. I use a tag manager tool to bulk switch tasks on or off if there are too many for me to just find and switch on and off one-by-one. I've seen screenshots of an app called Fabulous and someone creating Fabulous routines for each gear. You could use tags or categories in Todoist. Whatever you will keep using. Whatever is going to give you a way to view your lower gears without feeling guilty or overwhelmed by your higher gears. The first step is to use your STUFF tracker. The second step is to use it even when it's no longer fun and exciting.
Tip #1: Good fences
For this reason I recommend that you keep it well partitioned away from any lists that feel burdensome or are likely to provoke any guilt or bad feelings. You might think "if I have everything all in the one place then I will HAVE to keep up with it all!!". But friend… I have such faith in your ability to ignore important things. I know you can do it!! Don't put your STUFF tracker in your calendar or your to-do list. Because you'll want to avoid those things at some point: and I don't want you to ignore your STUFF at the same time.
Tip #2: Minimal Minimum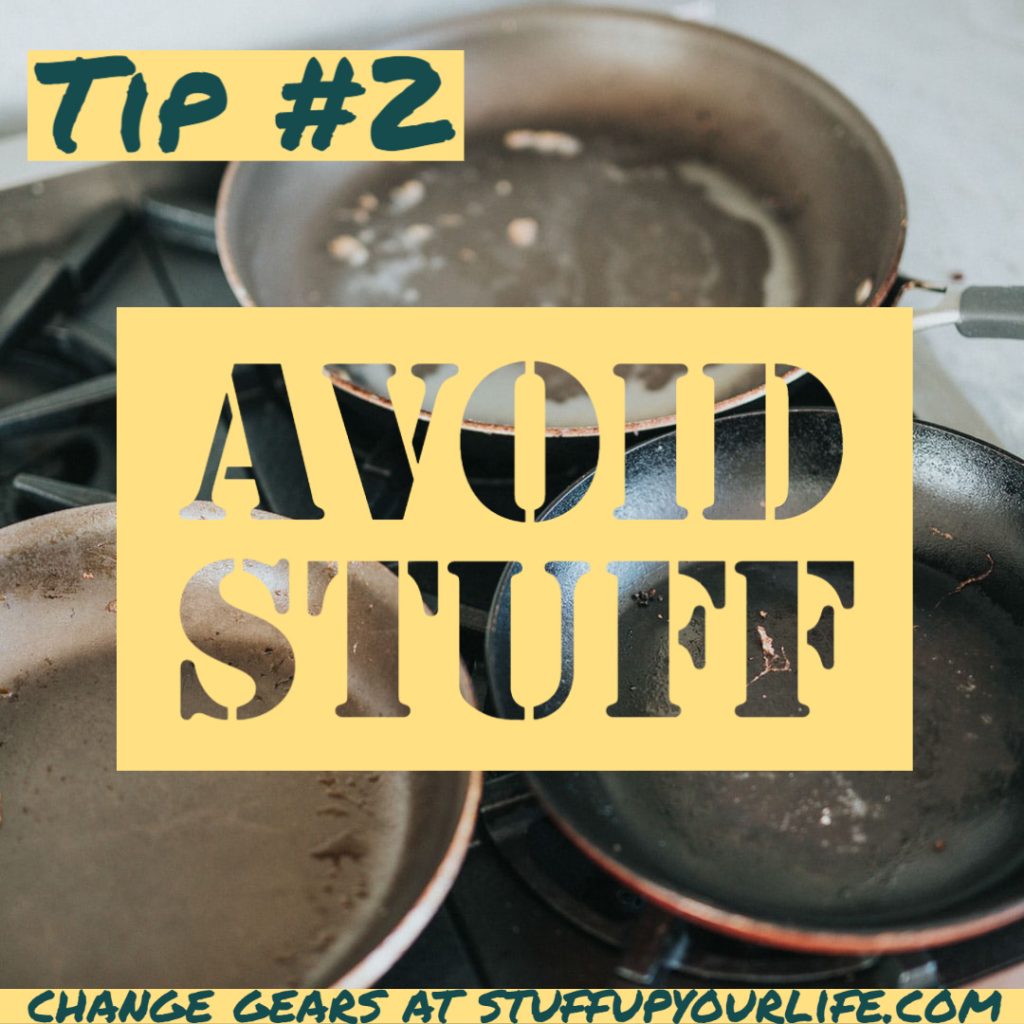 Some days you might want to spend 10 or more minutes reflecting on your day. That is so amazing. But most days I just feel annoyed at any obligation that I HAVE to do. So I make tracking my STUFF as simple as possible. My end of day checkin is… so fast. It takes less than one minute for me to open Habitica and tick off the things I did. I have it set up in a Siri Shortcuts routine which opens my calendar and my todoist to-do list (which I ignore) and then opens Habitica. If I feel like Habitica is "too much" then I know it's time to change gears and make it so simple that even I can't resent having to do it. (But also sometimes I still avoid it but one of the features of Habitica is that when you open it in the morning it asks if you need to check anything off from the day before)
So that's where you start. Wherever you're likely to go back to day after day, week after week. And if you get bored of one app and it's no longer exciting you can start using some other newfangled app with social or gamification features which sound fun. You can keep switching apps every month if that works to keep you keeping on with stuff… and STUFF.
I always love to see screenshots of how you're using STUFF so if you've got it set up in Things 3 or TikTik or Daylio or you've got a Bullet Journal or whatever I'd absolutely love to see how you're doing it!

(and if you make apps and want to hear about how my PERFECT STUFF TRACKING APP would work I'd love to hear from you too…)